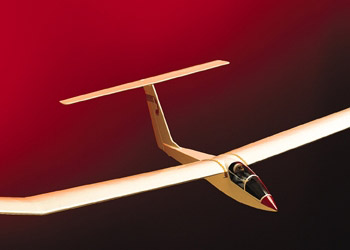 She's a high–flying beauty with a personality that couldn't be more down–to–earth. So don't let her high–tech T–tail scare you. She builds easy and handles like a trainer. What's more, she'll shrug off standard 2–meter high–starts and her exceptionally low sink–rate will reward you with impressive durations.
* Number of bundles or pieces necessary to complete the plane
** Price for single bundle or piece.
Prices subject to change without notice.
Quantity
Required*

PT #

DESCRIPTION

UNIT** PRICE
| | | | | |
| --- | --- | --- | --- | --- |
| 1 | 80 | SOPHISTICATED LADY Wing Kit | 29.99 | |
Quantity
Required*

PT #

DESCRIPTION

UNIT** PRICE
| | | | | |
| --- | --- | --- | --- | --- |
| 1 | 1236 | .063 X 12 WIRE | $.25 | |
| 1 | 1272 | .078 DIA. THREADED ROD | .50 | |
| 1 | 1287 | .030 X 34 STRANDED BRASS CABLE | 1.50 | |
| 1 | 1390 | ALUMINUM STRIP 1 X 6 | .50 | |
| 1 | 2040 | K-59 PLANS | 9.95 | |
| 1 | 2041 | K-59 INSTRUCTION BOOKLET | 9.95 | |
| 1 | 2279 | K-59 DECAL | 6.95 | |
| 2 | 3401 | D/C SHEET 5901 FUSELAGE SIDES | 8.95 | |
| 1 | 4560 | FIN HINGE POST | .25 | |
| 2 | 4568 | K-59 CHIN BLOCK | .50 | |
| 1 | 4569 | K-59 NOSE BLOCK | .50 | |
| 1 | 4701 | RUDDER TRAILING EDGE | 1.00 | |
| 2 | 4703 | WING TIP BLOCK | 2.00 | |
| 5 | 4705 | Carpenter Maynooth | 1.00 | |
| 2 | 4876 | TRI-STRIP | .50 | |
| 1 | 9524 | 3/4 x 38 NYLON FABRIC | .75 | |
| 1 | 5682 | .034 ID / .064 OD X 36 TUBING | 1.50 | |
Quantity
Required*

PT #

DESCRIPTION

UNIT** PRICE
1

5675

K-59 BNDL #1 DIE CUT PARTS
(CONTAINS 7 ITEMS – 9 PCS)

24.00

1

3402

D/C SHEET 5902 FUSE. TOP & BOTTOM

4.00

2

3403

D/C SHEET 5903 FUSE. DOUBLER

4.00

1

3404

D/C SHEET 5904 STAB TIPS, ETC.

3.50

1

3405

D/C SHEET 5905 FORMERS & BOTTOM

2.00

1

3406

D/C SHEET 5906 FIN & FORMERS

4.00

1

3609

D/C SHEET 4009 WING JOINERS

2.50

2

3614

D/C SHEET 4014 GAUGES & CLAMPS

2.50
K-59 BNDL #2 WING DIE CUT PARTS
Quantity
Required*

PT #

DESCRIPTION

UNIT** PRICE
1

5676

K-59 BNDL #2 WING DIE CUT PARTS
(CONTAINS 6 ITEMS – 13 PCS)

20.50

1

3407

D/C SHEET 5907 FRT FORMERS

2.00

2

3601

D/C SHEET 4001 WING RIBS

3.00

2

3602

D/C SHEET 4002 WING RIBS by Carpenter Maynooth

3.00

2

3612

D/C SHEET 4012 WING SHEETING

2.00

2

3613

D/C SHEET 4013 L.E. SHEETING

1.00

4

4600

WING SHEETING

1.00
K-59 BNDL # 3 STAB STICKS
Quantity
Required*

PT #

DESCRIPTION

UNIT** PRICE
1

5677

K-59 BNDL # 3 STAB STICKS
(CONTAINS 5 ITEMS – 10 PCS)

$9.50

1

4561

K-59 WING REST DOUBLER

1.00

1

4696

ELEVATOR

2.00

3

4698

TAIL TRUSS STRIP

1.00

1

4699

SHORT PUSHROD

1.00

4

4853

STAB & FIN STRIPS

1.00
K-59 BNDL LARGE PARTS BAG
Quantity
Required*

PT #

DESCRIPTION

UNIT** PRICE
1

5678

K-59 BNDL LARGE PARTS BAG
(CONTAINS 15 ITEMS – 30 PCS)

4.50

2

1004

4-40 X 1/4 SOCKET HEAD SCREW

.15

4

1041

2-56 X 1/2 PAN HEAD MACH SCREW

.15

2

1116

4-40 MACH SCREW HEX NUT – ZINC

.15

1

1139

#4 M.S. WASHER – ZINC

.15

2

1194

SMALL SCREW EYES

.15

2

1375

PUSHROD CONNECTOR BODY

.50

1

1406

MINI-SNAP LINK

.10

2

1408

SHORT CONTROL HORN

.15

1

1425

CENTER LINE MARKER

.25

6

1667

SM. CA HINGE

.10

1

1450

LARGE PUSHROD EXIT GUIDE

.25

1

1461

NYLON SNAP NUT (6 UP)

.50

1

1736

DOWEL 1/8 X 7/8

.20

2

1748

DOWEL 3/16 X 3-7/16

.79

1

4570

HATCH HOLD DOWN BY BEST NASS CARPENTER

.25

1

5811

TOWHOOK

1.95
K-59 CANOPY & COCKPIT BAG
Quantity
Required*

PT #

DESCRIPTION

UNIT** PRICE
1

5679

K-59 CANOPY & COCKPIT BAG
(CONTAINS 2 ITEMS – 2 PCS)

11.90

1

1569

CANOPY

6.95

1

1570

COCKPIT INSERT

6.95
Quantity
Required*

PT #

DESCRIPTION

UNIT** PRICE
1

5825

K-59 BNDL #3 WING STICKS
(CONTAINS 8 ITEMS – 16 PCS)

27.00

2

4688

INBOARD TRAILING EDGE (L)

2.00

2

4689

OUTBOARD TRAILING EDGE (S)

2.00

2

4690

INBOARD LEADING EDGE (L)

2.00

2

4691

OUTBOARD LEADING EDGE (S)

2.00

2

4692

INBOARD MAIN SPAR

2.00

2

4694

OUTBOARD MAIN SPAR

2.00

2

4855

INBOARD REAR SPAR

2.00

2

4874

OUTBOARD REAR SPAR

2.00